Paideia Conference & Camp
Veritas Orientation and Paideia Conference & Camp
Veritas Orientation (Monday)
Orientation is the "pre-conference" track to the Paideia Conference and is an essential time for NEW students, co-teachers, and teachers to orient themselves to Veritas Academy. Orientation is generally held on Monday during the first week of August.
Paideia Conference & Camp (Tuesday & Wednesday)
The Paideia Conference is an annual training held each summer (generally on Tuesday & Wednesday during the first week of August) to further the classical education of and inspire Veritas Academy's co- teachers and teachers. Adults will attend keynote presentations and breakout sessions of their choice, all focused on helping us grow together in the teaching and training of our children's/student's hearts and minds. Students have their own track and will participate in Paideia Camp either as a "camper" (grades K-6) or a "volunteer" (grades 7-12).
What you need to know for Paideia 2019...
When? Monday-Wednesday, August 5-7, 2019
What? New Student, Family & Teacher Orientations + Paideia Conference & Camp
Keynote Sessions with Dr. Stephen Meyer, Graeme Donaldson, and Jef Fowler, plus great trainings and sessions presented by our Veritas faculty and parents.

Our parent involvement initiative will host our 2nd annual Traditions Fair to showcase the many ongoing opportunities for families to get involved and connected at Veritas Academy!

A Used Uniform & Curriculum Sale will be setup for easy browsing and purchasing of last minute items, and the Veirtas Vault will be open to purchase spirit-wear items including jackets and t-shirts that can be worn throughout the school year on dress-down days.

Ole! Defender Date Night returns with Tex-Mex style drinks, desserts, and entertainment. Join us for an evening of fun and fellowship on Friday, August 9 beginning at 7:30pm!

We need all attendees (Parents, Faculty and Staff) to REGISTER to help our planning teams prepare for the week!
---
Tell Me More About...
(click on the "profile" for more details)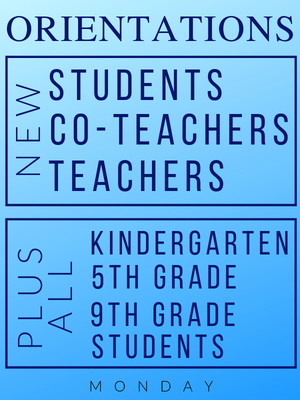 Pre-Conference Orientations  
Mon, Aug 5 @ 8am-2pm
Attendance at Veritas Orientation on Monday is ONLY for parents, students, faculty and staff who are NEW to Veritas. Parents, faculty and staff will attend a variety of keynote and breakouts to help orient them to the school and community. Breakfast and lunch will be provided for parents and faculty attending orientations.
NEW students plus ALL Kindergarten, 5th Grade, and 9th Grade students will spend the day learning about life in the Schools of Grammar, Logic, and Rhetoric as they tour campus, play team-building activities, and learn campus procedures & routines while meeting and making new friends. Students will need to bring a lunch on this day, and those entering PreSchool and PreK have the option to attend orientation, although it is not required.
SR House Induction Ceremony @ 2:30pm
Beginning at 2:30pm, all 9th graders and new 10th-12th grades will be inducted into one of four houses in the School of Rhetoric. Everyone is invited to attend the House Induction Ceremony in the Auditorium, especially those with older siblings.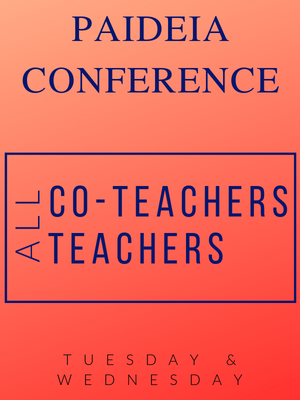 Paideia Conference
Tue-Wed, Aug 6-7 @ 8am-3:30pm
Attendance on Tuesday and Wednesday is for all Veritas parents, students, faculty and staff. Adults will attend sessions of their choice, including keynote presentations and breakout sessions scheduled throughout the day. Our hospitality team will provide breakfast snacks and coffee each morning, and lunch purchases may be made in advance if you'd rather not worry about packing a lunch for yourself. All lunch orders are $10 per person each day and must be placed by July 15th: Texas BBQ on Tuesday and Pizza & Salad Bar on Wednesday.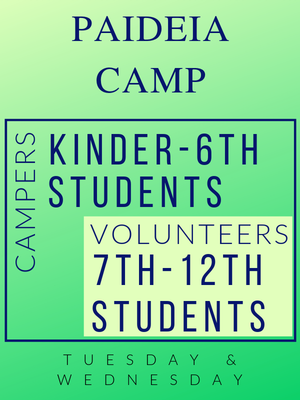 Paideia Camp
Tue-Wed, Aug 6-7 @ 8am-3:30pm
Paideia Camp runs on Tuesday and Wednesday and is a great time to build friendships, explore campus, and learn traditions! Students in grades K-6 attend as campers (registered via the Paideia Family Registration form), and students in grades 7-12 serve as volunteers (volunteer applications are also part of the Paideia Family Registration form).
*PreSchool & PreK students who have registered for childcare will have a great time at Paideia as well, although they are not yet considered campers.
Lunch for Volunteers & Campers
Parents may pre-order a Jason's Deli box lunch for their children or send a sac lunch.
What to Wear
Campers and volunteers will receive a t-shirt that needs to be worn during Paideia Camp days on Tue-Wed, Aug 6-7. In addition to this shirt, they should wear comfortable, modest shorts and closed-toed shoes; sunscreen is recommended. If you would like to pick up your shirt before Paideia Camp, campers can stop by SLR 103 as early as Fri, Aug 2, or wait to pick up their shirt on the first morning of camp, Tue, Aug 6. Volunteer t-shirts will be distributed at volunteer training on the afternoon of Mon, Aug 5.
Camp Check-In
K-6th Grade campers will check-in at 8am in the Community Courtyard (above the Upper Village classrooms); just look for your grade level tent. PreSchool and PreK check-in will be held at the carpool canopy, and parents will walk with their child to their camp room in the Lower Village.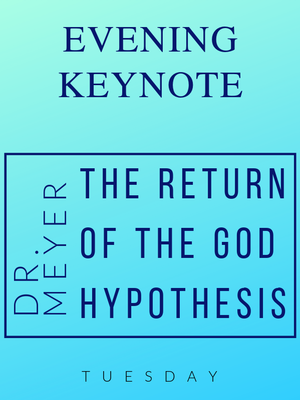 The Return of the God Hypothesis: Dr. Stephen Meyer
Tue, Aug 6 @ 7pm | Auditorium
Veritas Academy is pleased to present an additional evening event with Dr. Stephen Meyer, Discovery Institute Program Director - Center for Science and Culture. Please join us as Dr. Meyer presents on "The Return Of The God Hypothesis."
Has modern science proved that God is a delusion? Is it still rational to believe in God in the 21st century? Join philosopher of science Dr. Stephen Meyer as he discusses a series of revolutionary scientific discoveries that point to the reality of God. Known for his groundbreaking work on the evidence for intelligent design in biology, Meyer demonstrates how discoveries in astronomy and physics as well as biology help to establish the identity of the intelligent designer responsible for life. Meyer argues that a traditional theistic worldview — with its affirmation of a transcendent and personal God -- best explains the evidence we have concerning the origin of life and the universe. Come hear Dr. Meyer explain why it's an exciting time to be a scientist and a person of faith. For more information on Dr. Meyer visit - Discovery Institute
Seating is limited, so please reserve your seats during Paideia Registration.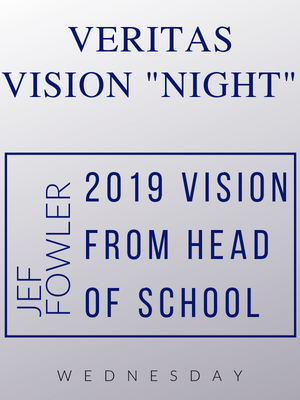 Veritas Vision
Wed, Aug 7 @ 2:15pm | Auditorium
We are giving you back an evening during the busy start of school by moving our annual Vision Night address to the final keynote slot of our Paideia conference. Even if unable to attend the rest of the conference, please make an effort to make it to this session where we kick off the school year and refresh ourselves on the reason our school exists.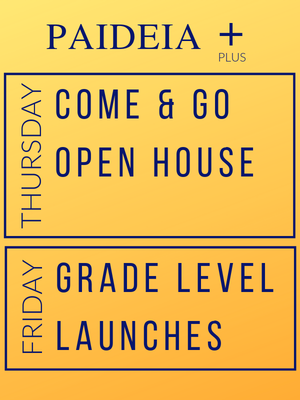 Open House & Grade Level Launches
Open House on Thu, Aug 8 @ 1-3pm and Launches on Fri, Aug 9 @ Various Times
Come-and-Go Open House on Thu, Aug 8 @ 1-3pm
Come-and-Go Open House is largely for the purpose of allowing Grammar School students to meet their new teacher and visit their classroom; however, the SL/R building will also be open. Teachers may not be available to greet students, but students are still welcome to:
Find their locker and practice their locker combination;
Practice finding their classrooms based on their schedule;
Pick up textbooks.
SL students will also have time to do this on Friday during the 5th/6th and 7th/8th Grade Launches, so a Thursday visit is an option, it is not necessary.
---
Grammar School Launches on Fri, Aug 9 @ Various Times
GS Launches are a time for co-teachers to meet their student's classroom teacher and hear about her class expectations, new procedures, grade level projects, and any adjustments for the year. We encourage all co-teachers, even our most seasoned veterans, to attend!
School of Logic Launches on Fri, Aug 9 @ Various Times
SL Launches are super important in helping you and your student start the school year off on the right foot. When arriving for launches, please enter the building via the 2nd floor main entrance and follow signs to the correct rooms. This year's launches are revised slightly and include new topics:
Introduction of each core teacher and the opportunity for parents to hear the heart of these teachers before school even starts;
Time for your student to get to meet the teachers;
Time for 5th and 6th graders to finalize the set-up of their Communication Binder (see the email from me that was sent in mid-July).
School of Rhetoric Launch on Fri, Aug 9​​​​​​ @ 1pm
The SR Launch will be held for all SR parents and will last 1.5 hours. During this time parents will hear from SR faculty/staff about school level expectations, policies and procedures, as well as how to engage and support students throughout their high school years.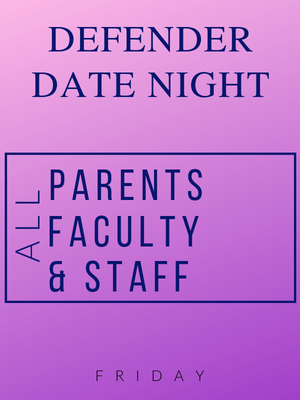 Defender Date Night
Fri, Aug 9 @ 7:30pm
After a week of learning together, it's time to relax and have some fun! That's why we're so excited to bring you our third annual Defender Date Night this summer at the end of Paideia. As part of Veritas Traditions, DDN is a full night of food, fellowship, and fun! Put it on your calendar and make plans to join us! Tickets are $15 per person ($25 per couple) and include drinks, dessert and entertainment! You don't want to miss it! Purchase your tickets during registration!
Quick Links
Confirm your attendance for the week, reserve seats for our evening Keynote with Dr. Stephen Meyer, purchase your Conference and Camp lunches & Defender Date Night tickets!
All students entering grades 7-12 during the 2019-2020 school year are eligible to apply to be a camp volunteer! (All NEW upper school students need to complete the application to help us place you in a station you will enjoy.)
---
Daily Schedule
Check-in - 8:00am
Sessions Begin - 8:30am
Lunch Break - 11:45am
Sessions End - 3:30pm
Student Pick-up - 3:45pm